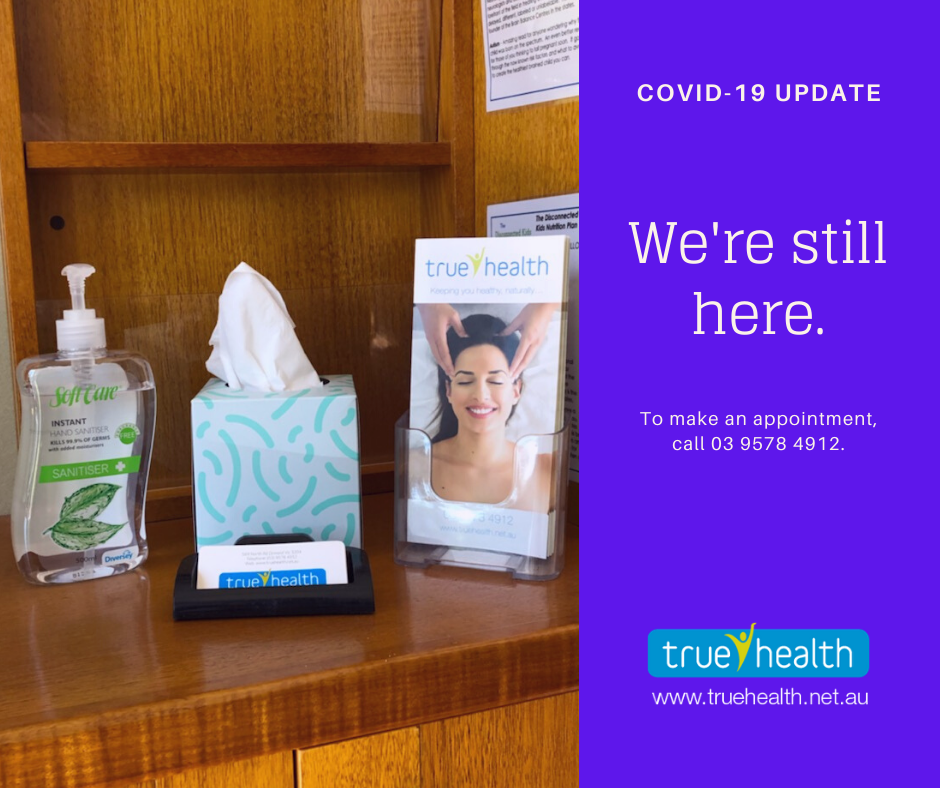 Still here!
There is no denying that we are living in difficult times. It seems like everywhere you turn, there's more bad news coming out of some corner of the world, the country or the state. Quite simply, it is overwhelming.
At True Health, we want to help.
We know that so many of you rely on us for on-going treatment, and we don't want that to stop. So, we will remain open, which will hopefully relieve some of the stress you are likely experiencing in this time of uncertainty.
But, we have had to make some concessions.
First and foremost, we are asking any of our patients exhibiting any flu-like symptoms to not attend the clinic. We must ensure the on-going health and safety of our staff and patients, and we simply can't risk any infection entering our clinic, where we regularly see vulnerable people.
We've removed heat packs and magazines from the waiting area and we've also had to temporarily remove the colouring-in corner. All rooms and beds are disinfected after every appointment, staff are employing the strictest of hygiene controls and are disinfecting communal areas every 30 minutes.
Any patient of ours knows how much we care about your welfare. We have an abundance of hand sanitiser and tissues available around the clinic, and signs are posted explaining the correct methods of washing your hands and applying sanitiser.
Our Amie even did the COVID-19 infection disease management course, which we have been told was a barrel of laughs.
Ultimately, we want to ensure that our patients are comfortable, calm and safe in the knowledge that we are doing everything we can to help during the pandemic. We will continue to monitor the situation and will update you all shortly.
True Health… keeping the healthy well!